Dr. Jeffery Elliott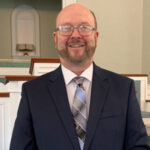 Born and raised in Clarksville, Tennessee, Bro. Jeff graduated from Tennessee Tech with a BSEE, and worked as an electrical engineer for 20 years. He received his Masters of Divinity degree from Golden Gate seminary and his Doctorate of Ministry degree in Evangelism and Church Growth from Southern Seminary in Louisville, Kentucky. He's pastored churches in Tennessee, Kentucky, Alabama, Mississippi, and Washington for over 20 years.
He is married to his college sweetheart Debbie, and they have two lovely grown daughters.
Bro. Jeff Elliott accepted the call from Triune Baptist Church to become its new pastor in April of 2022. You can listen to Bro. Jeff's sermons on the Sermons page.
Email: [email protected]