Jamie Wyatt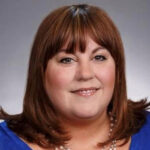 Jamie has been a member at Triune Baptist Church since 2012 and now serves as the Youth Ministry director. She grew up very active in church and accepted Christ as a child while attending Judson Baptist church. She was baptized by her Grandfather, the late Reverend Herman Jacobs of Nashville, TN on Easter Sunday 1986. Jamie graduated from the University of TN, Knoxville, in 2002 where she majored in Child and Family Studies.
Through a series of life events, she landed in the world of finance. In 2008 she became the Director of Investor Relations North America for a dialysis company, Fresenius Medical Care. She then went on to become a Managing Partner for Modern Woodmen of America, a Fraternal Financial Servicing company where she still works today. She has taught Children's choir for 18 years, taught Sunday School classes of varying ages off and on over the last 20 years and served on multiple committees.
She is a dog lover and enjoys just about any kind of crafting project! In her free time, you will usually find her spoiling one of her 5 nieces or nephews.